Benefits Of Spraying Electrostatic Disinfectant in Springfield Missouri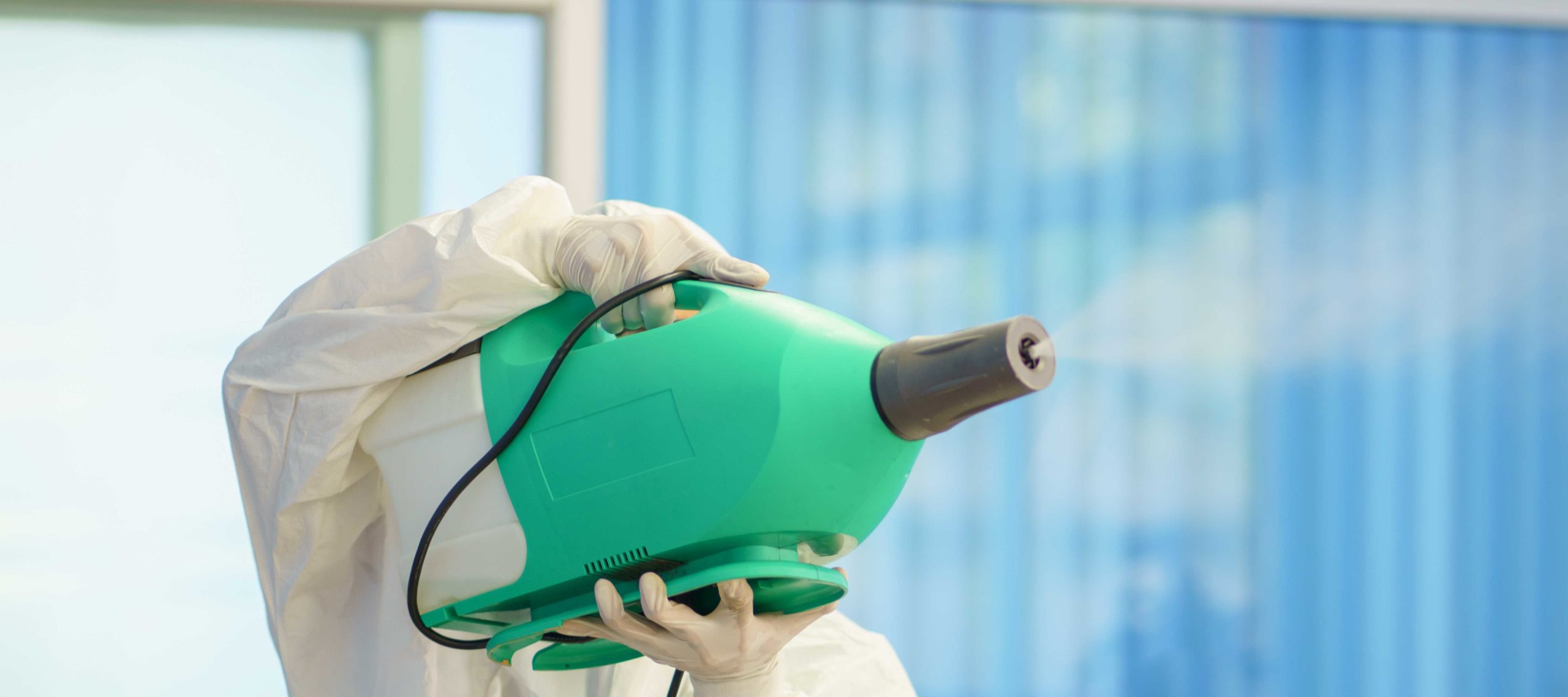 While electrostatic disinfection has only been used for commercial cleaning in the past few years, the technology was originally developed back in the 1940s for the automotive paint industry.
It works by adding a positive electric charge to paint as it passes through the spray nozzle. This makes the spray droplets repel from each other and bind to negatively charged surfaces in the environment. The result creates a superfine spray that evenly wraps around all surfaces, ensuring full coverage.
Spraying electrostatic disinfectant has been shown to be a very effective cleaning tool in the battle against germs, viruses and bacteria. Grime Scrubbers has seen the benefits of this technology ourselves and we have begun utilizing it as one of the many commercial cleaning services we offer to our clients.
But what exactly is electrostatic disinfection, and what are the benefits of spraying electrostatic disinfectant in your business?
What Is Electrostatic Disinfection?
Electrostatic disinfection can do what regular, simple spraying and wiping cannot. The cleaning solution inside our sprayer isn't just any solution. We combine a powerful disinfectant with air and give the mixture an electric charge.
Our sprayer contains an electrode that charges the solution with particles, and when the solution mixes with air and is sprayed onto a surface, these particles cause it to stick to the surface and coat it. The ionic charge of the disinfectant causes it to stick more tightly to surfaces instead of spreading out into the air as it's sprayed.
Our specialized sprayer releases a fine mist that covers surfaces evenly and thoroughly, reaching nooks and crannies that regular sprayers cannot. Unlike traditional sprayers, this solution makes its way across the surface and reaches into all the areas that regular cleaning methods tend to miss. In a matter of minutes, electrostatic disinfection can clean large areas of an establishment.
The disinfectant we use is EPA-certified and guaranteed to kill germs and pathogens, including COVID, within 30 seconds, all without posing any danger to people around the area while the work is being done. You also do not need to worry about any damage to paperwork, wall hangings or other office supplies.
There's a low chemical exposure, making it a safer method for humans. In addition, no mess is left behind to wipe up, as the particles are so fine that they dry very quickly.
Would Electrostatic Disinfection Be Beneficial For My Business?
Does your business have areas that can be hard to reach via traditional cleaning methods? Do you want a cleaning method that's proven to be quick, efficient, and safe? If so, then spraying electrostatic disinfectant can definitely benefit your company. From offices to medical offices to schools, any and all establishments can benefit from this popular type of commercial cleaning.
How will your business utilize electrostatic disinfection as part of your commercial cleaning program? The team at Grime Scrubbers would love for an opportunity to show you firsthand just how effective this method of cleaning can be. Give us a call and discover the benefits of electrostatic disinfection today.
Grime Scrubbers takes great pride in our years of experience with all areas of janitorial services. We offer cutting edge cleaning services like our electrostatic disinfectant spraying to help prevent the spread of germs and bacteria.
Let Grime Scrubbers put our expertise to work for you. You can reach us at 417-864-8862 or click here for a free quote.