Cleaning Public Restrooms – Bathroom Cleaning Services Springfield MO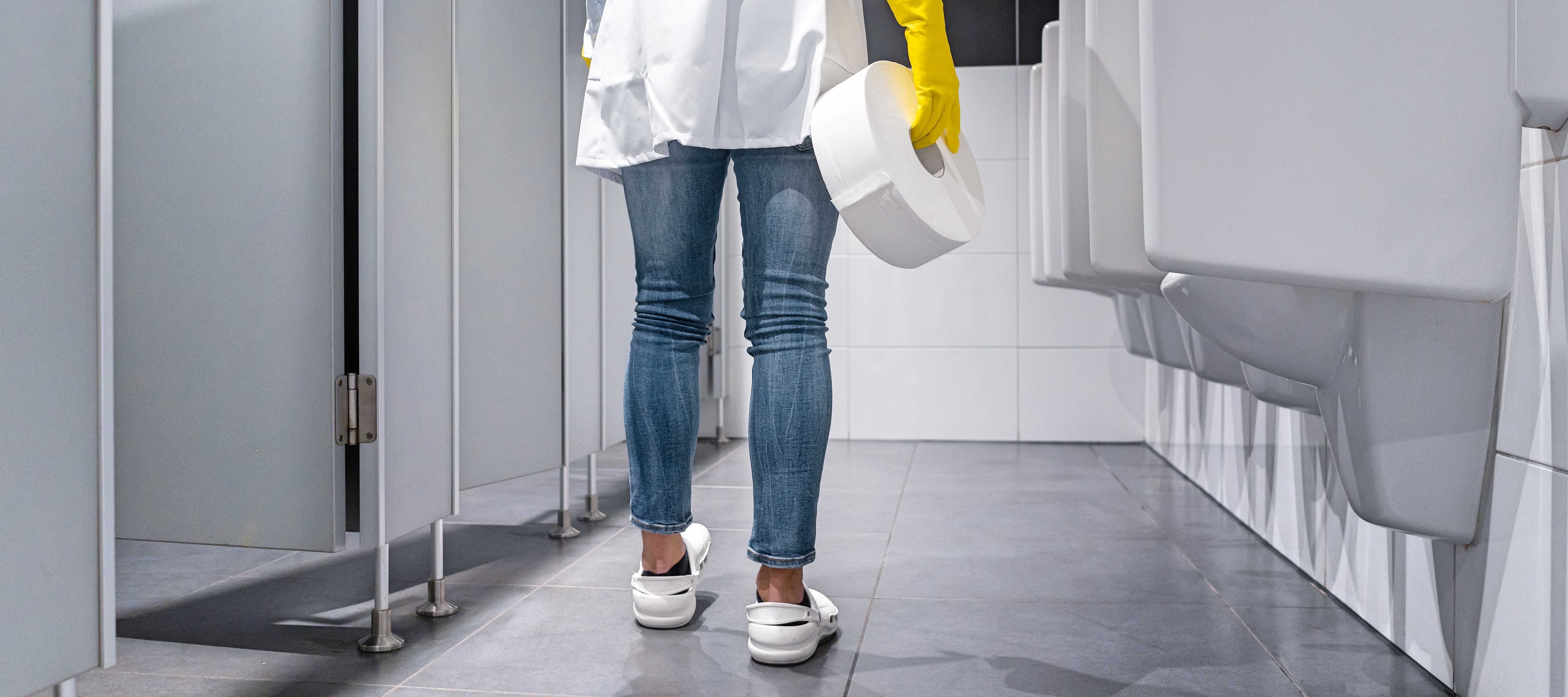 Although most people don't like to scrub, scour, and mop, we can all agree that cleaning is important—especially when it comes to bathrooms. Not only is a clean and sanitized bathroom important for our comfort and sanity, but it also helps us stay healthy. Ideally, public bathrooms should be cleaned often, thoroughly, and by a professional cleaning company in Springfield Missouri. A cleaning professional will have the needed tools and know how to keep any public bathroom in tip-top shape. However, if you're on your own and wondering how to clean a public restroom, use our tips to ensure that your bathroom is properly cleaned, sanitized, and ready to go.
1. Prepare your tools.
As you gather your cleaning supplies, remember that the products you use when you learn how to clean a public restroom should only be used to clean restrooms (this will prevent cross-contamination). You will need gloves, a broom, a mop, a mop bucket/wringer, glass cleaner, hand soap, disinfecting spray, toilet bowl cleaner, surface cleaner, and a drain cleaning product. Finally, remember to place a sign on the door/floor to warn anyone entering that the bathroom is being cleaned and the floor may be slippery. You may also want to leave the door open.
2. Take care of any obvious problems.
Before you begin your general cleaning routine, respond to obvious problems like debris on the floor, clogged toilets, and full trash cans. Also, check that the hand soap, toilet paper, and paper towel dispensers are full and working properly.
3. Start cleaning and scrubbing.
Now it's time to learn the basics of how to clean a public restroom. Start by scrubbing the toilets and urinals and cleaning them with a toilet cleaning product. After that, disinfect the countertop, sinks, faucets, door handles, light switches, soap dispensers, and paper towel dispensers. Then, clean the doors and partitions between stalls. After that, you should clean the mirror using a glass cleaner. Then, finally, sweep and mop the floors.
4. Go the extra mile.
If you want to really please the occupants of your bathroom, don't just do the standards when you're learning how to clean a public restroom. Make the bathroom a more pleasant place with air freshener, scented hand lotion, and flowers.
That's it! You've just learned how to clean a public restroom. All that's left to do is remove your "caution" sign and put your cleaning supplies back in the storage closet (or wherever they belong).
We recommend that you complete most of these procedures weekly. However, if your bathroom is used frequently and by a large number of people, you should check the bathroom every day for clogged toilets, floor debris, empty soap dispensers, unfilled paper towel and toilet paper dispensers, and overflowing trash cans. We would also like to stress the importance of washing your hands between each step and after you are finished.
If you would prefer to hire professionals for bathroom cleaning services in Springfield Missouri, give Grime Scrubbers a call. We've been in the business for 21 years and our cleaning professionals would be happy to perform a one-time service call or an ongoing maintenance routine. Give us a call today at 417-864-8862.