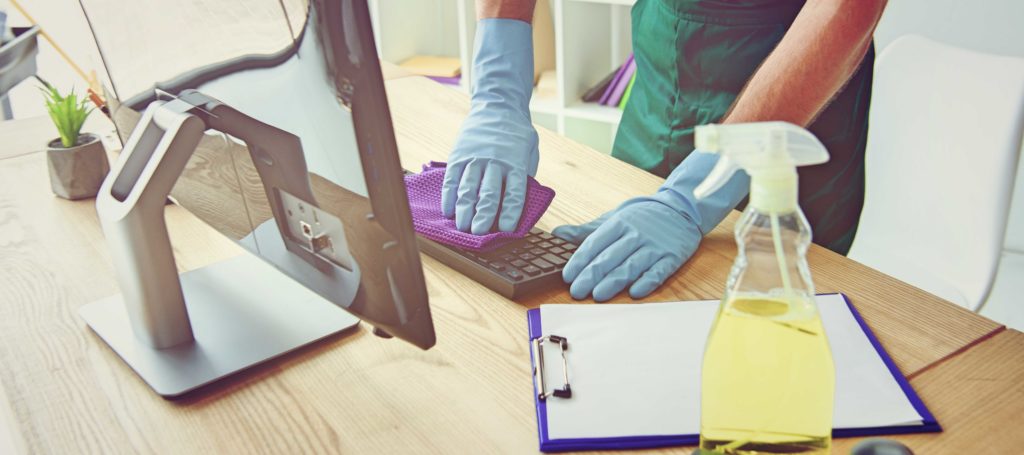 Making A List For Office Cleaning in Springfield Missouri
When it comes to office cleaning, most people only clean the areas that they frequently see and then forget about everything else. For example, seeing smudges on your windows reminds you to grab the Windex and the dust bunnies in the corner remind you to sweep the floors.
But you might forget to clean the microwave thoroughly because you only view its interior for a few seconds each week and are more focused on eating your lunch than scrubbing away the cooked spills.
To ensure that your entire office is consistently cleaned, you will need to create an list for office cleaning in Springfield Missouri so you can cross items off the list. To help with this task, we've put together a comprehensive list of office cleaning chores and duties.
Each offices is different, so feel free to pick out the chores that are relevant to your workplace and delete those that have no value. Also, be sure to add customized chores that are specific to your office. For example, your office might have wood beams running along the ceiling that need to be dusted and cleaned.
Or, maybe your office allows pets. In that case, you will need to add tasks like mopping the dogs' play area, removing fur from furniture, washing dog beds, and cleaning water bowls. Our list for office cleaning in Springfield Missouri focuses on the cleaning tasks that are required for most standard office workspaces.
WALLS, WINDOWS, DOORS, & LIGHTS
Clean standard-height windows
Clean hard-to-reach windows
Clean windows from the outside
Remove cobwebs from baseboards and ceiling
Wash walls
Dust picture frames, wall art, and clocks
Dust ledges, baseboards, moldings, sills, etc.
Dust light fixtures
Dust ceiling air vents
Dust, scrub, and/or vacuum stairs
Dust fans (ceiling and standing fans)
Wipe door handles and light switches with a disinfectant
FURNITURE, ELECTRONICS, & TRASH
Dust hard surfaces
Dust items on desk (picture frames, knick-knacks, etc.)
Dust office electronics (computers, phones, copiers, fax machines, etc.)
Disinfect tables and desks
Polish and buff hardwood surfaces
Polish and buff metal surfaces
Clean upholstery
Take out trash and add new trash bags
FLOORS
Vacuum carpets
Sweep floors
Mop floors
Vacuum vents
Wax and buff hard-surface floors
KITCHEN
Wash and sanitize countertops and tables
Run dishwasher and empty dishwasher
Wash drying rack
Clean microwave
Clean sink and faucet
Dispose of expired food products
Clean refrigerator and freezer
Empty trash cans and replace trash bags
Clean and sanitize water fountains and water coolers
Replace paper towels
Replace and/or clean sponges and scrubbing brushes
Wash cloths
Refill refreshment station (coffee, sugar, cups, etc.)
BATHROOM
Wash sinks and countertops
Sanitize sinks and countertops
Restock toilet paper and paper towels
Refill soap dispensers and hand sanitizers
Clean mirrors
Clean and disinfect toilets and urinals
Wipe down bathroom stalls
Wash hand dryers and/or paper towel dispensers
Mop bathroom floors
Empty trash cans and replace trash bags
If you don't want to have complete all these office cleaning tasks on your own, consider working with a commercial cleaning company to create a customized plan for your office. We offer flexible cleaning schedules, so you can create a plan that fits within your budget and includes all of your essential cleaning tasks.
If you're looking for a reliable and reputable janitorial service in southwest Missouri, contact Grime Scrubbers. We do everything from commercial cleaning and floor care to window cleaning and construction cleanup. If you're interested in learning more, give us a call at 417-864-8862 or click here to receive a free quote. We look forward to hearing from you!