Office Hardwood Floor Cleaning Services in Springfield Missouri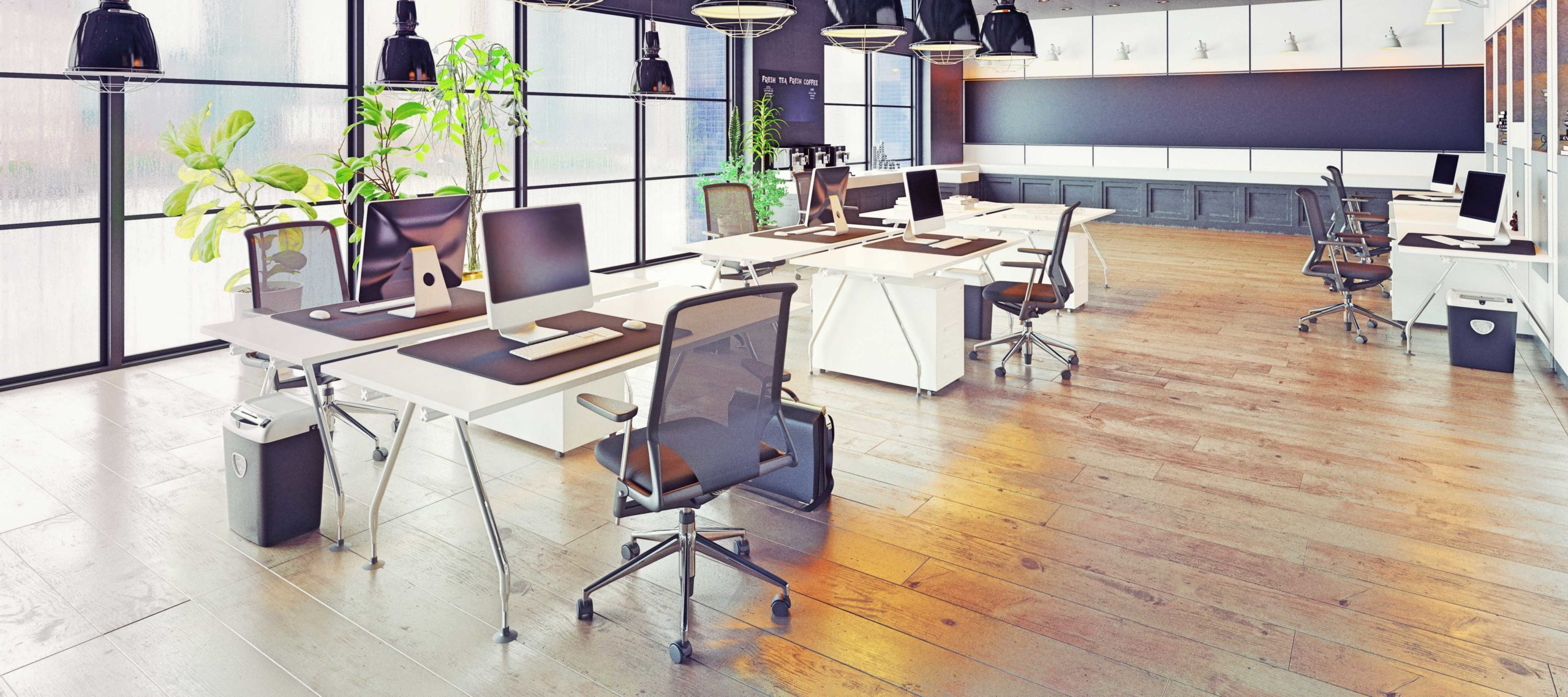 A well-maintained hardwood floor can transform your office loft from pretty to stunning. Unfortunately, the opposite is also true: a dirty, scratched, and stained floor can create a negative image for your business. You might assume that because your floor is trampled upon day in and day out, it is bound to show signs of wear and abuse. Don't underestimate your hardwood floor's potential. Hardwood is strong and durable, and with a bit of floor care, your customers will be asking how you managed to get your floors so shiny. To get started, check out our hardwood floor maintenance tips below.
The Basics
First things first: you can't have a beautiful office hardwood floor without putting regular work into it with professional floor cleaning services. You'll need to complete the three essential floor cleaning chores: sweeping, mopping, and vacuuming. Use the attachment on your vacuum cleaner to protect the floors, and go over the hardwood floor with a dust mop occasionally to pick up persistent dust bunnies.
Sanding and Refinishing
Unless your floor is brand new, there's a good chance that it could benefit from a new finish. This involves sanding everything down and then applying a stain and varnish. The process will give your floor a complete makeover, creating a flawless finish.
Establish Office Rules
Your floors are going to be walked on every day. That's unavoidable. So establish some office rules regarding what is allowed on the hardwood floors. For example, heavy boots and athletic shoes with marking soles should all be big no-nos. You should also apply soft felt pads under the legs of your office furniture to prevent scratching. Finally, if you have on office dog, make sure their claws are kept trimmed.
Clean Often and Carefully
Routinely cleaning your office hardwood floor is obviously important, but make sure you know what you're spraying on your floor before you mop it up. Some cleaning products contain harmful chemicals and bleaches that can stain your floors permanently if they are left on for too long. It is always best to be on the safe side, so that your floor isn't damaged by harmful chemicals. To make sure the job is done correctly, call Grime Scrubbers for office hardwood floor cleaning services in Springfield Missouri.
Keep Your Floor Out of the Sun
Harsh midday sun, especially in the middle of the summer, can wash out the color of a floor and leave it with a shadow of its original stain. Furthermore, the parts of your floor that are close to doors and windows often fluctuate widely in temperature throughout the day and across the seasons. The transition from hot to cold (and back again) can cause your boards to expand and shrink back repeatedly. Do your best to keep these parts of your floor from getting too hot or cold to reduce warping.
Put Down Area Rugs
Especially in high-traffic areas where people come and go, don't be afraid to put down a nice rug. Even though it does cover up a portion of the floor, a beautiful area rug can really make the rest of the floor pop and prevent one heavily used area from wearing more quickly than the rest of the floor.
Even if you follow all of these office hardwood floor maintenance tips, keeping your floor looking shiny and clean is hard, tiring work. Grime Scrubbers is more than happy to do all the work for you, so you can get the satisfaction of looking at your sparkling floors without breaking your back to clean them. Give us a call at 417-864-8862, and let us bring your office hardwood floors to life.