Pressure Washing Concrete – Floor Cleaning Services Springfield Missouri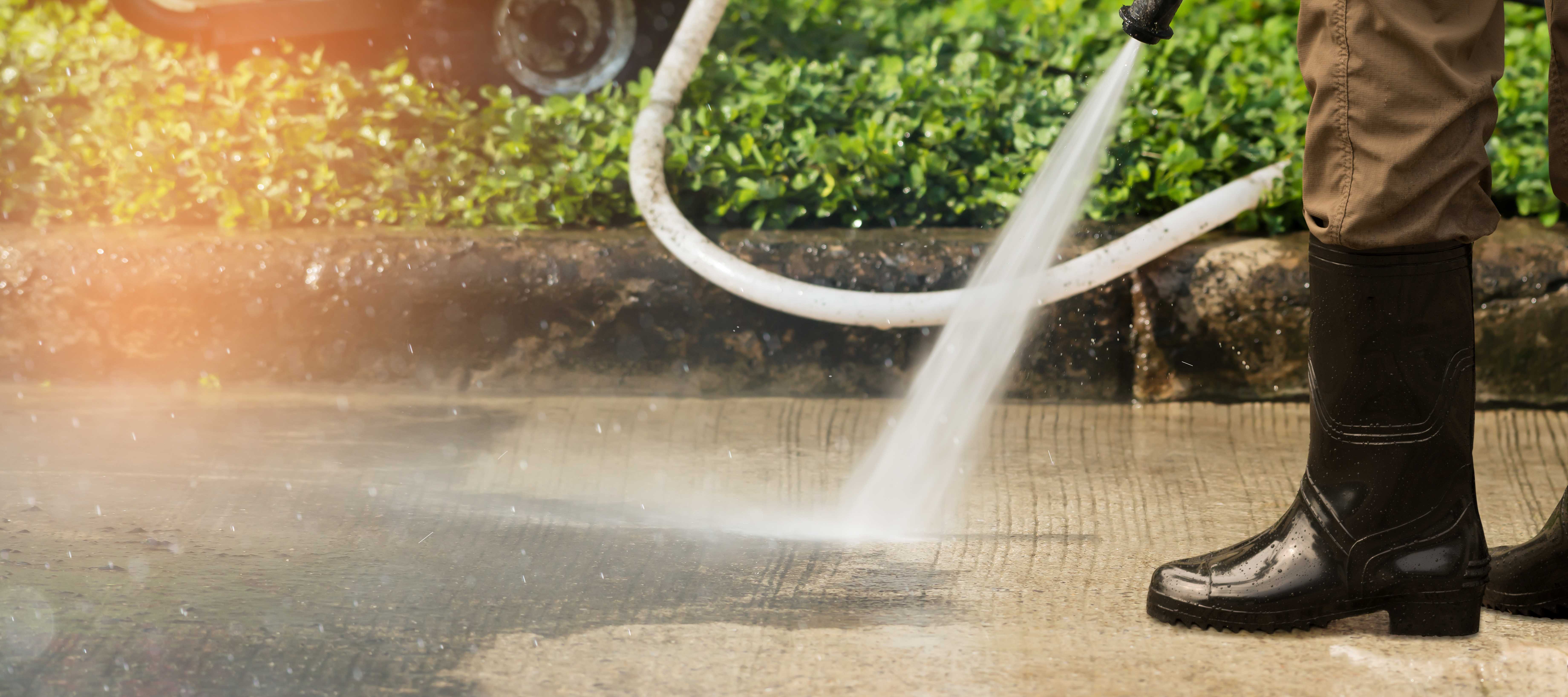 If you've never used a pressure washer, you're in for a real treat. Instead of spending hours scrubbing your concrete driveway, sidewalk, or siding, you can simply let the water do the work. Plus, if you aren't ready to purchase a pressure washer, you can easily rent one from a nearby hardware or home improvement store. Learning how to pressure wash concrete surfaces is simple, but if this is your first time, you might need to learn a few basic tips and techniques. So whether you're trying to remove skid marks, motor fluid, leaf stains, or basic grime build-up, we've got you covered.
Prepare Yourself
The first thing you'll need to do when learning how to pressure wash concrete is to prepare yourself for the task. Obviously, you're working with water, so don't be surprised if your clothing gets damp or full-on soaked and choose your clothes accordingly. You will need to wear water-resistant, closed-toe shoes and protective eyewear as well. Finally, remove any small objects from the area (they could be blown away) and if you have children or pets, ensure that they'll stay away during the process.
Pre-Treat Stains
If the concrete is badly stained, a blast of water probably won't eliminate the problem areas. Apply a de-greasing product or a bleach detergent first (depending on the stain) and scrub it into the stain with a brush. You may need to let the product sit so that it can fully penetrate the stain as well. Follow the directions on the bottle carefully.
Prepare the Machine
Then, you'll need to find your pressure washer and familiarize yourself with its guidelines and anatomy. Generally, the instructions are quite similar from product to product. Connect your hose to the intake valve and connect the spray wand to the output valve. Then, turn on the pressure washer and set the control to "clean."
Start Spraying
After that, you can start spraying. Using a sweeping, back-and-forth, overlapping motion, cover the entire area with detergent and give it time to soak into the concrete (10-20 minutes). Then, switch the control to "rinse" and attach your high-pressure nozzle. Repeat that sweeping, back-and-forth motion to rinse away the detergent as well as all the underlying grime, dirt, and stains.
Note: Pressure washers are extremely powerful. Don't point them toward any surface beyond the concrete, as the water pressure could cause great damage. Never point them toward another human, animal, or yourself either.
Finish Up
You've just learned how to pressure wash concrete. Now that the concrete is clean, you can de-attach the hose and the spray wand. You may be interested in applying a sealant at this time, to protect the concrete and prevent future stains. The sealant can be rolled on like paint, and it must dry completely before you use the driveway again.
Instead of trying to pressure wash concrete on your own, consider giving the cleaning professionals at Grime Scrubbers a call instead. We offer a variety of floor cleaning services in Springfield Missouri including stripping, scrubbing, sealing, waxing, and pressure washing. If you would like a grime-free floor, give us a call at 417-864-8862.