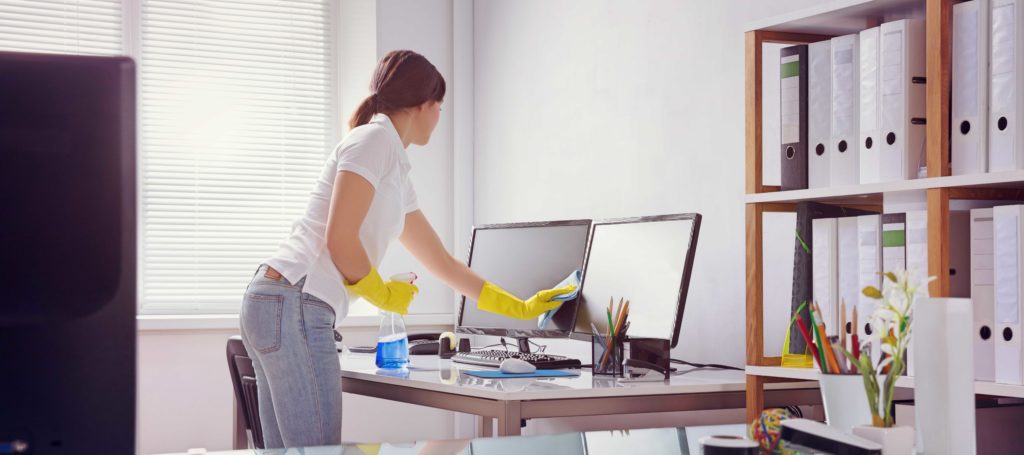 Scheduling Your Office Cleaning in Springfield Missouri
When you're caught up in the daily rush of work assignments and deadlines, office cleaning duties can easily get forgotten. As you and your coworkers are typing away and sending e-mails, dust accumulates on your desks, crumbs gather on the floor, and the windows become cloudier and cloudier until you can barely see through them.
Although it's common to let cleaning duties fall by the wayside in workplaces, it's also easy to prevent this unpleasant and unsanitary scenario. All you have to do is create an office cleaning schedule and stick to it. Whether you use a company for office cleaning in Springfield Missouri, complete the chores yourself, or do a mix of the two, a schedule will help you remember what to clean and when to clean it.
Every office is different, so these cleaning tasks will vary based on what's in your office, which spaces or items need to be kept presentable, and how your office ranks the importance of cleanliness and sanitation. But here's a basic schedule based on how often most offices complete these cleaning tasks:
COMPLETE DAILY
Vacuum and sweep floors
Disinfect break room tables
Wash and sanitize bathroom sinks and countertops
Empty trash cans and add new liners
Run dishwasher and empty dishwasher
Spot clean windows and glass surfaces
Remove any cobwebs
COMPLETE WEEKLY
Wipe all hard surfaces with a mild disinfectant
Clean glass surfaces with a glass cleaner
Polish and buff hardwood surfaces
Polish and buff metal surfaces
Dust light fixtures
Wipe door handles, light switches, etc. with a disinfectant wipe
Check that toilet paper and paper towels are stocked in bathrooms
Refill soap dispensers and hand sanitizers
Clean bathroom mirrors
Clean and disinfect toilets and urinals
Wipe down bathroom stalls
Mop bathroom floors
Clean microwave
Clean kitchen sinks
COMPLETE MONTHLY
Clean windows, inside and out
Clean refrigerator and dispose of expired items
Disinfect trash receptacles
Clean all upholstery
Vacuum all vents
Dust any high and hard-to-reach surfaces
Wash walls
COMPLETE SEMIANNUALLY OR YEARLY
Thoroughly clean carpets with hot water extraction or steam cleaning
Thoroughly clean hard-surface floors (waxing, buffing, etc.)
Clean hard-to-reach windows
Feel free to modify this list by omitting the duties that are unnecessary in your office and adding those that we neglected to include.
If you're planning to complete this cleaning schedule on your own (or with the help of employees/coworkers), be sure to print out a copy and hang it somewhere prominent so that everyone knows what is expected of them. Consider hanging a pen or pencil next to it as well, so that you can check off tasks as they're completed.
For a more foolproof cleaning plan that will require very little work on your part, consider hiring a commercial cleaning service in Springfield Missouri. You might be surprised to learn how flexible our cleaning company can be in regard to their schedules and tasks. Consult with your cleaning company to create a plan that fits your needs and budget, making adjustments as needed.
If you're looking for a reliable and reputable janitorial service in southwest Missouri to tackle your office cleaning, contact Grime Scrubbers. We do everything from commercial cleaning and floor care to window cleaning and construction cleanup.
If you're interested in learning more, give us a call at 417-864-8862 or click here to receive a free quote. We look forward to hearing from you!