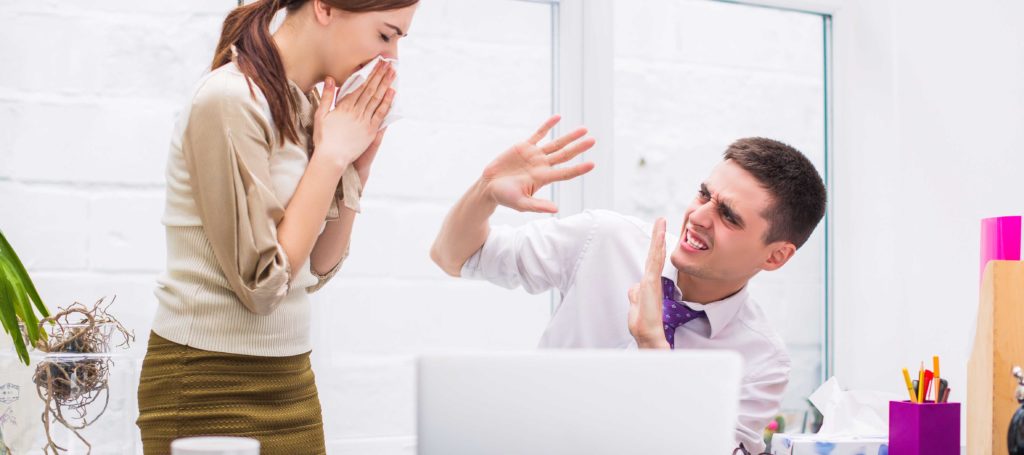 Stop Germs From Spreading With Professional Cleaning Services in Springfield Missouri
With so many people in a tight space, offices can be a breeding ground for germs. This becomes especially true during winter, when the flu and colds spread rampantly. This time of year more than ever, it's essential to keep a hygienic workspace. Learn about how to combat cold and flu season and stop germs from spreading in the office with professional cleaning services in Springfield Missouri.
Identify Germs' Favorite Places
The two biggest germ culprits around the office? Nope, not the bathroom. They're the kitchen/break room and your desk. Spaces where people handle food are germ hot spots. They're hiding in places you might not readily suspect: appliance handles (think refrigerators, sinks, and coffee pots) and buttons on your microwave or vending machine. The same goes for commonly touched areas like the copy machine. And when employees sit at their desks, germs they've picked up throughout the day settle into keyboards, computer mice, and office phones.
Do Away With the Sponge
Cold and flu season means bacteria is ramping up, and so should your cleaning. Look to methods that don't harm more than they help, e.g., the break room sponge—tools like this only harbor germs. Disposable disinfectant wipes work much better for wiping surfaces.
Remind Employees About Health Tips and Etiquette
When it comes to cold and flu season in the office, diligently professional cleaning services aren't enough. Your employees play a huge role in maintaining the whole office's health. Stay proactive and remind them of the following cold and flu tips and etiquette:
Sneeze and cough in the elbow/upper arm, not the hand.
Refrain from touching eyes, nose, and mouth throughout the day.
Wash hands regularly, with soap and water, for twenty seconds.
Get vaccinated for the flu.
Consider keeping kleenex, hand sanitizer, even disinfectant wipes at the desk.
Wipe down surfaces on the desk at least once a day.
Stay home if sick. Sick employees will likely be less productive, and could spread their germs to others.
Stock Up on Cleaning Supplies
You know what tools you need to keep your workplace hygienic, so get them! As the manager, providing Kleenex, disinfectant wipes, and hand sanitizer in the office is the best way to get your employees—not just your cleaning crew!—to use them. Better yet, keep them in plain sight—place wipes and hand sanitizer near food prep areas and the copier, and stock boxes of Kleenex in several locations around employees' desks. That way, it will prompt people to wipe down the microwave keypad or reach for a tissue without having to go out of their way. These products are well worth the investment!
Cold and flu season requires extra measures to stay hygienic. Need help fighting the germs in your workplace this season? If so, then you need professional cleaning services in Springfield, Missouri. Give the cleaning professionals at Grime Scrubbers a call. We offer a variety of cleaning services, including carpet and upholstery cleaning. You can reach us at 417-864-8862 or click here for a free quote.