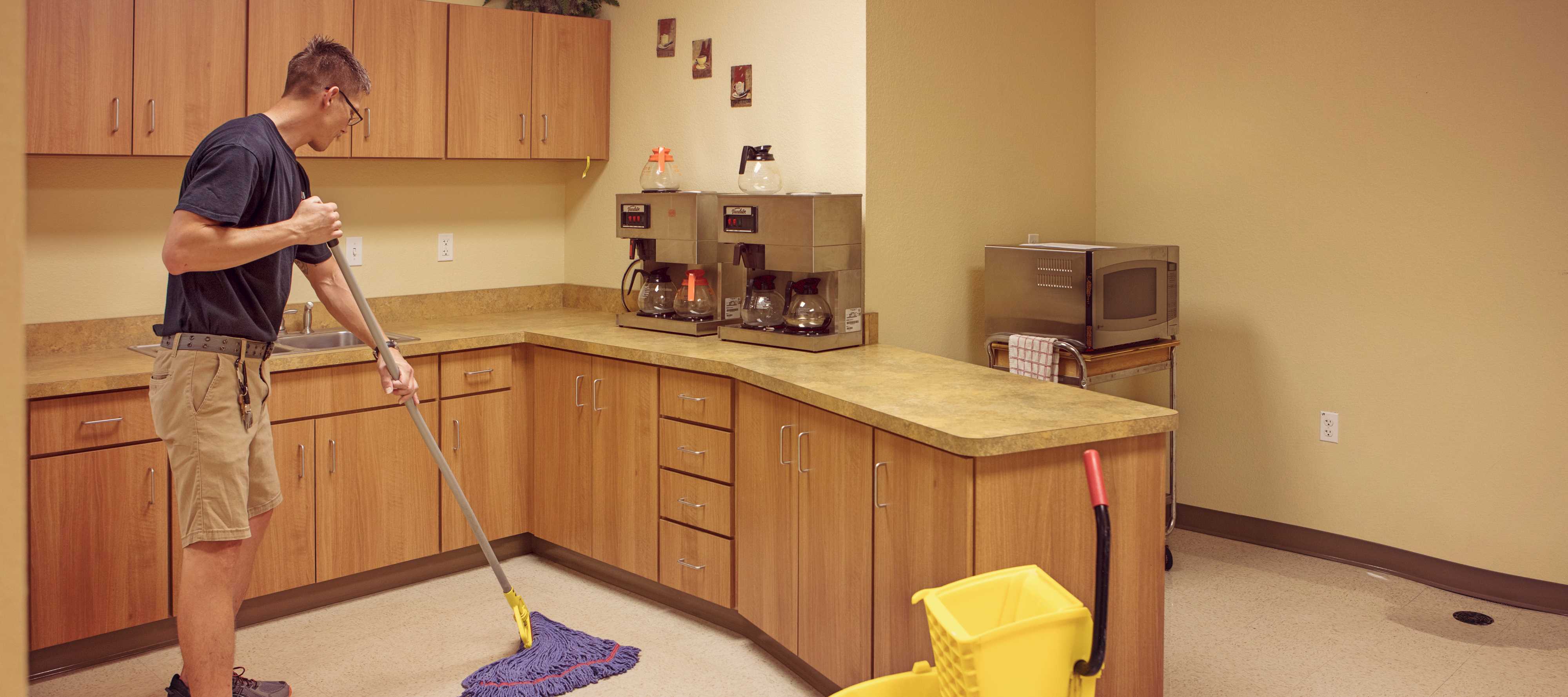 What does it say about a business when they don't take the time to keep their office clean? What sort of image are they projecting to their employees, their associates, and their clients? What would a prospective client think if, upon walking in for their meeting, they saw crumbs on the floor, dust on the desk, and filthy windows?
Suffice it to say, a clean office is integral to a productive, successful work environment. By treating your employees well and giving them an inviting place to work, you're communicating to everyone that enters the office that you care about your employees, your business, and the work that you do. And if you're looking for a company with superior office cleaning services, look to Grime Scrubbers. We are a full-service commercial cleaning company that will make your office shine.
Our Office Cleaning Services
Whether your office is large or small, Grime Scrubbers offers the office cleaning services that businesses need to keep their buildings spotless. We clean lobbies, restrooms, break rooms, hallways, and (of course) offices.
Our experienced workers know how to properly clean everything from windows and lighting fixtures to desks, floors, and upholstery. And by giving your office a thorough scrub-down, you're not only improving its appearance, you're also giving it a longer life. Regularly cleaned upholstery and windows will last much longer than those left to fester for long periods. We also offer many different floor cleaning services, including stripping, waxing, sealing, and carpet cleaning. So if you want your floors to shine and your windows sparkling, call up the best provider of office cleaning services in southwest Missouri: Grime Scrubbers.
The Importance of Professional Cleaning Services
But maybe you think you don't need professional cleaners, because you have a vacuum and some Windex. If this is your frame of mind, consider the following facts.
Office cleanliness plays a vital role in productivity by reducing distractions, increasing a sense of professionalism, and boosting morale. Plus, without effective cleaning, germs are left to run wild – nesting in keyboards, hugging doorknobs, and clinging to office memos. Those germs will affect your employees, increasing their number of sick days and general malaise.
In addition, think of the people visiting your office (whether clients, associates, or friends) and what you want their first impressions to be. Just as it is important to dress for success, it is vital that your office environment be clean and organized if you want to give off the impression that your company is successful, efficient, and trustworthy. In utilizing professional office cleaning services, businesses garner respect, gratitude, and esteem from all those who step into their office – whether the mailman or the chairman of the board.
Customized Cleaning Programs
Whether your budget is big or small, you can find a Grime Scrubbers cleaning program to suit your needs. With our office cleaning services, businesses find the flexibility they need. Although we're always happy to offer standard cleaning services, we can also work with you to tailor a cleaning program that suits the constraints of your business and office space. We can focus on one area (floors, windows, etc.) or take care of every nook and cranny. Just let us know.
With our years of experience, industry-leading techniques, and powerful equipment, you can trust that Grime Scrubbers will make your office shine. Our office cleaning in Springfield Missouri will take care of every detail, leaving your work place absolutely pristine – windows sparkling, floors immaculate, bathrooms sanitized, upholstery brightened, and desks dustless. That's our promise to you. So if you're looking for superior office cleaning services that businesses love and trust, look to Grime Scrubbers.